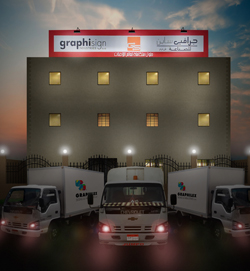 Factory
Graphilex Factory is an industrial complex specialized in manufacturing all indoor & outdoor signage,Exhibition booths, stands ,Displays & Decor items.
Router cutting & engraving all materials, laser engraving, digital & flatbed printing on all materials with our advanced metal, wood, aluminium composit panel & acrylic workshops.
It consists of several workshops & Labs : Plasma metal-cutting, Advanced Metal Workshop, Wood Workshop, Acrylic Workshop.